Join Lancaster Bent Riders!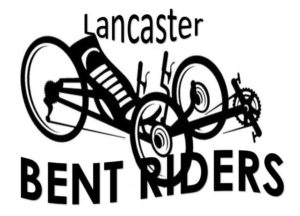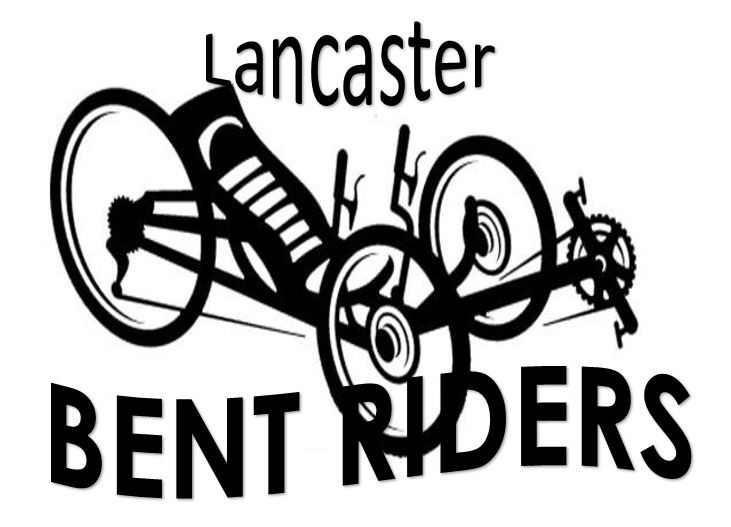 Love riding 'bent? Looking for some fellow recumbent riders to ride with? Then you've found the right group! Lancaster Bent Riders is a diverse group of bike and trike lovers who get together several times a year to explore the trails of southeastern Pennsylvania. Lancaster Recumbent is the group's sponsor*, organizing the rides and planning post-ride picnics. Lancaster Recumbent provides protein at the picnic, usually in the form of hot dogs, burgers, etc, and other members of the group sign-up to bring a covered dish and sides. Membership to Lancaster Bent Riders is free and open to anyone with a love for riding, young or old, on two wheeled bikes or three wheeled trikes! Check out our calendar of events to sign-up for this year's rides.
*By participating in the ride, rider releases Lancaster Recumbent (sponsor) from any and all liability that may arise out of the rider's participation.
Come for the Cycles. Stay for the Susquehanna River Towns.
Our customers come from all over the mid-Atlantic and Northeast United States for our experience and expertise in recumbent cycles. Many customers ask us for suggestions on how they can make a day or weekend out of their trip to Marietta, PA where our shop is located. Marietta is located along the Susquehanna River Valley and this section of Lancaster County is rich in history and nature, offering visitors plenty to do in an afternoon or a weekend getaway. Below are a few suggestions on what to do and where to go when you visit, or you can check out the local newsletter, The Marietta Traveler, to see what's going on in town this week. You can also learn more about the area by checking out the Susquehanna Valley Chamber of Commerce. 
McCleary's Public House (Irish Pub & Restaurant)

130 West Front Street, Marietta, PA ● 717.426.2225
mcclearyspub.com
Railroad House Inn (New American)

280 West Front Street, Marietta, PA ● 717.426.4141
railroadhouseinn.com
Perry Street Cellar (Speakeasy Bar)

280 West Front Street, Marietta, PA ● 717.426.4141
perrystreetcellar.com
Shank's Tavern (Bar & Restaurant)

36 South Waterford Avenue, Marietta, PA ● 717.426.1205
shankstavern.com
Molly's Courtyard Cafe (Cafe & Coffeehouse)

17 East Market Street, Marietta, PA ● 717.604.1169
mollyscourtyardcafe.com
Nick's Bistro (Traditional American)

324 West Market Street, Marietta, PA ● 717.604.1137
nicksbistromarietta.com
Marietta Pizza & Grill (Pizza and Sandwiches)

132 West Market Street, Marietta, PA ● 717.604.1134
mariettapizzagrill.com
River Trail Brewing (Craft Beer & Pub Food)
40 East Front Street, Marietta, PA ● 717.604.1161


rivertrailbrewing.com

Hinkle's Restaurant (Breakfast Diner)
261 Locust Street, Columbia, PA ● 717.684.2888


hinklesrestaurant.com

Bully's Restaurant & Pub (Traditional American)
647 Union Street, Columbia, PA ● 717.684.2854


bullys-restaurant.com

John Wright Restaurant (Brunch, New American)
234 North Front Street, Wrightsville, PA ● 717.252.0416


jwrpa.com

Mulberry Thrill (Coffee/ Pastries, Ice Cream)
100 Market Street Rear, Marietta, PA ● 717.604.1670


mulberrythrill.business.site
B.F. Hiestand House Bed & Breakfast
Historic inn is located in Marietta, a river town on the Susquehanna River. At the doorstep of this bed and breakfast are plenty of activities along the Northwest Lancaster County River Trail and a great selection of local restaurants. Venture out to Lancaster City, PA Dutch Country, York, and Hershey - just 20 miles away.
722 East Market Street, Marietta, PA ● 717.426.8415
bfhiestandhouse.com
Ascot House Bed & Breakfast
Ascot House is a traditional British B&B decorated in classic Georgian style and located in the pre-civil war town of Marietta. This dog friendly Amish Country bed and breakfast has six spacious and elegant air-conditioned guestroom, luxurious spa-style bathrooms and breakfasts to satisfy any gourmet.
219 West Market Street, Marietta, PA ● 717.426.2518
ascothousebandb.com
Railroad House Inn
Historic inn is situated along Marietta's front street and features 12 guest rooms. Adjacent to the inn is the Railroad House restaurant featuring new American cuisine.
280 West Front Street, Marietta, PA ● 717.426.4141
railroadhouseinn.com
Hermansadar's Victorian Bed & Breakfast
This gingerbread mansion features Victorian era architecture complete with a slate bell tower. The river town of Columbia sets the backdrop for this beautiful bed & breakfast. Inside, find the artwork of your inn keeper, the famous local artist Thomas Foster Hermansadar.
420 Chestnut Street, Columbia, PA ● 717.684.7899
columbiabandb.com
Lancaster Marriott at Penn Square
Located in the center of Lancaster's downtown, this hotel offers the amenities you come to expect from Marriott set against historic Penn Square. Explore Lancaster City, the one time one day capital of the United States during the American Revolution. Just steps away, is Lancaster Central Market, the oldest continuously operated farmers market in the United States which boasts local food and handmade Amish goods.
25 South Queen Street, Lancaster, PA ● 717.239.1600
marriott.com
Northwest Lancaster County River Trail
14 mile one way/ 28 mile round trip multi-use paved trail runs along the Susquehanna River from Columbia, to Marietta, Bainbridge, and Falmouth. Located just a block and a half behind Lancaster Recumbent.
nwrt.info
Enola Low-Grade Rail Trail
5.25 mile multi-use crushed stone trail follows portions of the Atglen and Susquehanna branches of the Pennsylvania Railroad from Turkey Hill to Safe Harbor dam in Manor Township. Plans are in place to connect to a larger 27.6 mile segment of the trail that was detached after a bridge fire.
susquehannagreenway.org
York Heritage Rail Trail
24.9 mile multi-use crushed stone rail trail from York, PA to the Pennsylvania-Maryland border that runs through urban and rural landscapes.
traillink.com
Conewago Recreational Trail
5 mile graded, level trail follows the Conewago Creek through farmland and woodlands, connecting to the Lebanon Valley Rail Trail.
lvrailtrail.com/conewago
Lebanon Valley Rail Trail
14.5 mile crushed stone trail takes you through beautiful farm county from Lebanon to the Lancaster County Line, through Cornwall, Alden Place, Mt. Gretna, Colebrook, and Lawn, PA
lvrailtrail.com
First National Escape
Break into this 1940s vault and solve clues to escape the bank with your loot before times up! A fun 60 minute activity for 2 or more.
100 West Market Street, Marietta, PA ● 717.384.5625
firstnationalescape.com
Chiques Rock Outfitters
Whether you want to explore the Susquehanna River on the water, on the trail, or from above the tree line, Chiques Rock Outfitters provides canoe, kayak, and bicycle rentals as well as guided fishing and climbing tours.
41 Walnut Street, Columbia, PA ● 1028 River Road, Columbia, PA ● 717.475.6196
chiquesrockoutfitters.com
The Susquehanna Stage Company
Located in historic Marietta, this non-profit community organization seeks to provide performances that celebrates the humanity that binds us all together. Check out their website for this year's shows.
264 West Market Street, Marietta, PA ● 717.426.1277
susquehannastageco.com
Musselman-Vesta Iron Furnace Center & Rivertownes PA USA
May through September, this exhibit showcases the iron furnaces built by Henry Musselman, a Marietta native, and Henry Miller Watts in 1868. It was the last of the eight anthracite-fired hot blast furnaces built in Lancaster County.
26 Furnace Road, Marietta, PA ● 717.426.4736
mariettarestoration.com
Vital Tree Yoga
Check out this yoga studio located in a former cabinet shop built in the early 1900s. Hardwood floors, plenty of windows, and modern heating creates a warm studio as you practice your stretches.
137 West Market Street (Side Entrance), Marietta, PA ● 717.917.9474
vitaltreevinyasa.com
Turkey Hill Experience
Over 17,000 square feet of exhibits, dining, and retail space dedicated to educating visitors about Lancaster County dairy culture and the story of the Turkey Hill brand. Learn about the company's top-selling ice cream and ice teas, explore how flavors are created, and even make your own flavor in their flavor labs and do some taste testing!
301 Linden Street, Columbia, PA ● 844.847.4884
turkeyhillexperience.com
Nissley Vineyards
Located on acres of rich, well-drained, limestone based soils, Nissley Vineyards grows 14 varieties of grapes to create state and international award winning wines. Enjoy a self-guided tour of the winery production area and sample the estate bottled wine.
140 Vintage Drive, Bainbridge, PA ● 717.426.3514
nissleywine.com
National Watch & Clock Museum
Opened in 1977, this unique museum houses over 12,000 watches, clocks, tools, and time-related items. This history of timekeeping is good for all ages.
514 Poplar Street, Columbia, PA ● 717.684.8261
nawcc.org
Express Laundry & Linens
Need to do a quick load of laundry after a day on the trail or river? Stop by and see our neighbor Bev, owner of Express Laundry and Linens. She'll help you get cleaned up! While you wait, you can visit us at Lancaster Recumbent or check out Marietta's restaurants and pubs.
42 West Market Street, Marietta, PA ● 717.426.4100
expresslaundryandlinens.com
For the Love of Dog
A specialty pet shop that celebrates the unique love we have for our dogs (and cats). This shop features quality products you can feel good about sharing with your four-legged friend. Stop to pick up some treats and toys! This shop is Clementine approved!
30 West Market Street, Marietta, PA ● 717.371.2382
fortheloveofdogpa.com
The Artful Nest
Bringing happy, handmade home decor and accessories to Marietta, PA. This shop will be the sister store to Naked Chick Art in York Central Market in York, PA. You will find original art, pottery, upcycled pillows, aprons, jewelry, sculpture, journals, cards, fair trade items, plants, and candles among other goodies!
17 West Market Street, Marietta, PA ● 609-254-4364
suzannerende.com/theartfulnest
Bootleg Antiques & Oddities
Located in the former Superior Washing Machinery Company, this unique antiques shop showcases the original wood wheels and pulley systems used back in the late 1890s. But even more interesting is the building's third floor - the location of an illegal bootleg distillery during the prohibition era.
135 Bridge Street, Columbia, PA ● 717.684.0009
www.bootlegantiques.net
Marita Hines Gallery
Marita Hines has practiced her art from an early age. She was able to retire from her desk job at the age of 60 and has become immersed in her art ever since. Marita owns a gallery and studio space in Marietta PA featuring her own art as well as pieces from other local artists. She also runs a plein air group for the Lancaster County Art Association and started a group called Marietta Art Alive, with other artists whose goal is to bring the arts to the river towns where she resides.
42 West Market St, Marietta, PA ● 717-314-9551
maritahines.com
Homestead Furnishings & Gifts
Blending the "old" with the "new" is the specialty of this beautiful shop located between Marietta and Maytown. Find reproduction furniture, period lighting, seasonal wreaths, decor, and more from artisans in Lancaster County and bordering states.
161 South River Street (Route 743), Maytown, PA ● 717.426.1800
homesteadfurnishingsandgifts.com
Forry's Country Store
Family owned, small town grocery store showcasing the best of local produce and baked goods.
820 Ivy Drive, Lancaster, PA ● 717.285.5050
forryscountrystore.com