At Your Service
Lancaster Recumbent is a full-service cycle shop. Not only will we help you find the recumbent cycle of your dreams, we're here to help you keep it well maintained. Afterall, a well maintained cycle is a safe cycle. We're experienced recumbent cycle riders, trained service professionals and accredited members of both The Bike Shop Advantage and the National Bicycle Dealer Association. Our team has completed accredited cycle mechanic training at Barnett Bicycle Institute – so you can breathe easy knowing you and your cycle are in good hands.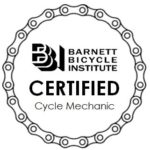 Maintenance & Repairs
The
Safety Check
Safety check and inspection of your cycle only
(service needs are noted for the below components as pass/ fail):


Wheels & Spokes ● Tires ● Reflectors ● Frame & Fork ● Handlebar ● Saddle ● Brakes ● Pedals

$39.99

The
Standard
Tune-Up
Safety Check plus…
Adjust Front and Rear Brakes ● Adjust Front and Rear Derailleur ● Lubricate Pulleys ● Basic True of Front and Rear Wheels ● Front and Rear Hub Bearing Adjustments ● Bottom Bracket and Headset Adjustments ● Lubricate Cables and Chain ● Check and Inflate Tire Pressure

●

Clean Cycle

$169.99


+ any parts needed
Ala Carte Repairs & Services
Hourly Service Rate (non-electrical)….. $85.00/ hr.
Hourly Electronic Component Analysis & Service Rate….. $100.00/hr.
Fix a Flat….. $15.00 + parts
Repair Broken Chain….. $15.00 + parts
Adjust Derailleurs & Shifters….. $15.00 + parts
Replace Cable Housing….. $20.00 + parts
Replace Chain & Cassette….. $35.00 + parts
Adjust Brakes….. $15.00 + parts
Drain Hydraulic Fluid & Replace Lines….. $50.00 + parts/fluid
Basic Wheel True….. $35.00
Performance Wheel True….. $70.00
Cycle Box for Shipping….. $ 65.00 per bike….. $ 95.00 per trike (+ time for packing if required)
Cycle Reassembly….. $75 per bike….. $120 per trike (+ parts if required)
Custom Retrofits
Love your cycle but wish you could make a few changes? Tell us what you'd like to change and we'll work to identify and source the right components to retrofit them to your cycle. Whether you want to do something simple, like change pedals or shifters, or something more challenging like upgrading to power assist, overhauling your gear system, or adding an elliptical crank, we'll help you take your cycle to the next level.
Other Services – Sell Your Used Cycle Under Consignment
Ready for a new cycle? Lancaster Recumbent will help you sell your old cycle! For a commission you can consign, or give Lancaster Recumbent permission to sell, your cycle as your selling agent. We'll take care of all the nitty gritty details – from writing and posting ads across a variety of networks (including the thousands of people who visit our website annually) to responding to prospect inquiries, facilitating and fitting test rides, and tracking down your money.  We'll do all the work and write you a check for the agreed upon sales price, less our commission, when your cycle is sold. Our commission is 40%, or 30% if you purchase a new cycle from us.
*Prices are subject to change without notice, written or otherwise.