WHEN CONTROLLED AND SAFE BRAKING IS THE PROBLEM, SMART BRAKE IS THE ANSWER. 
Smart Brake is the world's first wireless brake system for sports and mobility equipment. Smart Brake can be easily retrofitted to a wide range of equipment, like bikes and trikes, wheelchairs, sleds, and skis, so that the user, or their caretaker, can easily control braking and parking with minimal effort.
Meet the Smart Brake team and learn about their vision and mission to bring safe and controlled braking to people of all abilities.
HOW DOES SMART BRAKE WORK?
The Smart Brake system consists of two main components:
Smart Brake Brake Unit: Contains the motor that moves in response to wireless signals from the controller. When the brake is activated, a motor pushes a piston into a mineral oil reservoir which pushes oil into brake lines to close the brake calipers and stop the equipment. The brake unit is available as a hydraulic disc or rim brake: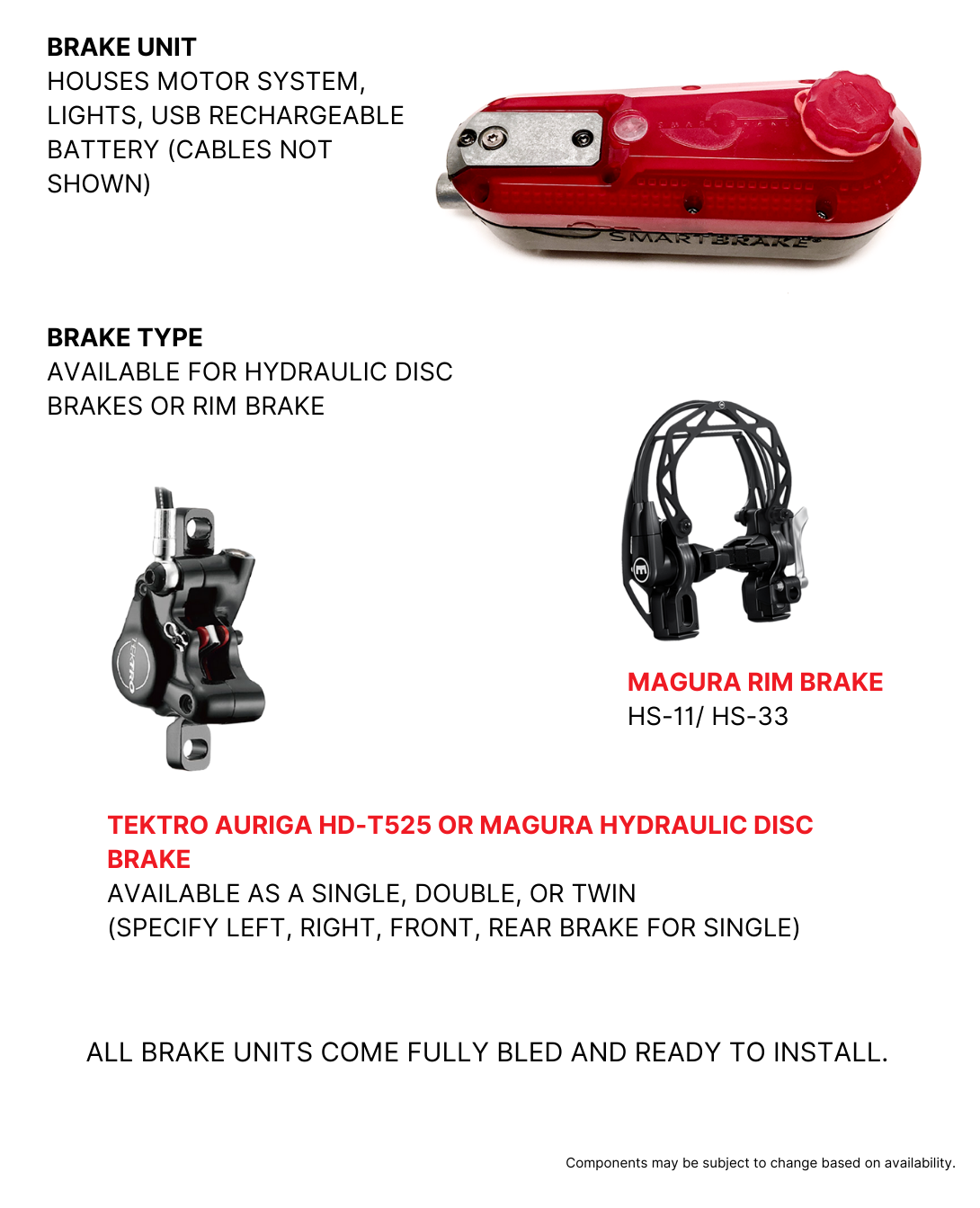 Each Smart Brake unit provides enough force to stop ~220 lbs of load (rider/ user + equipment). Add more brake units for heavier loads, more control on steep terrain, or for stopping at higher speeds.
The brake unit is powered by a Li-ion USB rechargeable battery. The battery achieves full charge in ~3.5 hours and delivers about 4,000 full brake cycles on a full charge. The unit features lights to communicate braking to other people as well as brake and USB lights to communicate activation/ pairing and connection with controllers. Lights also help to communicate any issues and facilitate troubleshooting.
Smart Brake Controller: Controllers communicate with the brake unit through radio frequencies with a signal range of 65-98 feet. There are several controller options to meet the needs of a variety of users and applications. Remotes can be held in hand or mounted to handlebars, wheelchair frames, or ski poles.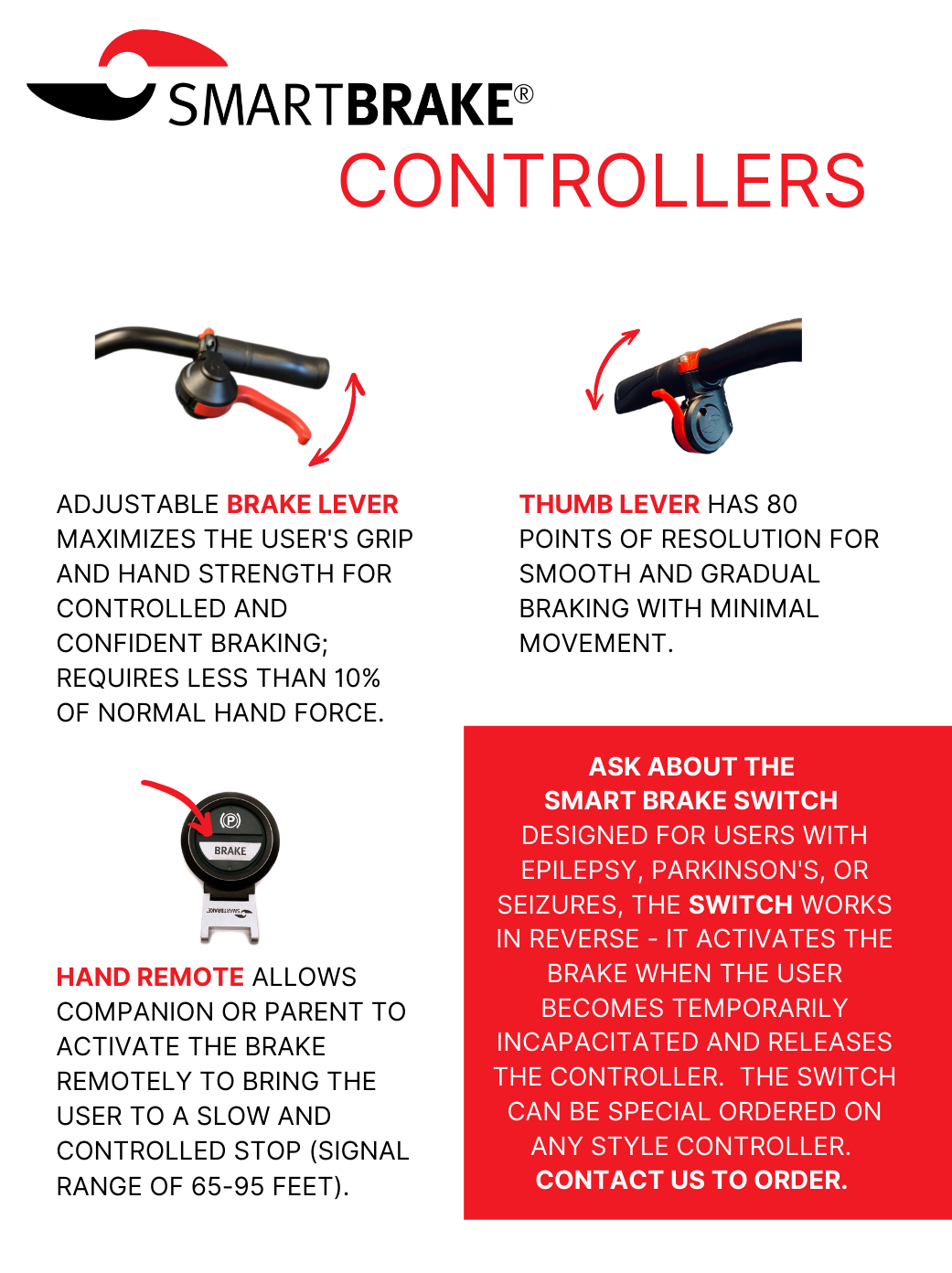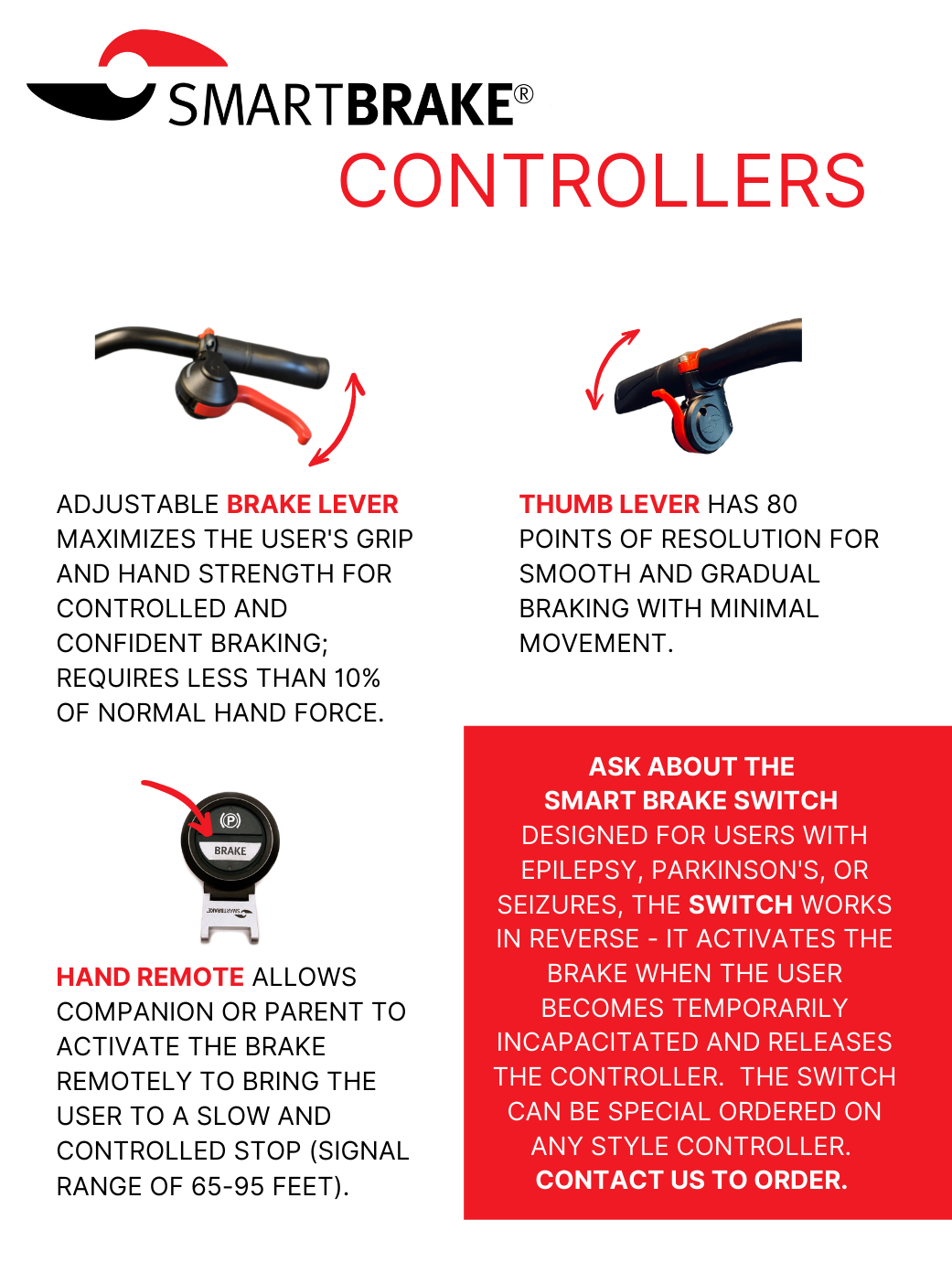 HOW DO I ORDER?
Click here to contact a dealer/ retailer partner near you!
Interested in becoming a Smart Brake dealer/ retailer partner? Register here.
Smart Brake is a registered trademark of Smart Group AS Norway. Content used with permission from Smart Brake.